Marketing mix models (MMM) are multivariate regressions where sales are the dependent variable and marketing mix variables are the independent variables. These models provide the sales elasticities of product attributes, prices, promotions and distributions.
Quantifying the marketing mix elements is a first step to develop the model: Products / prices, promotions and distributions are broken into many attributes with potentially many levels. Then, these attributes' impacts on sales are measured (similar to a conjoint study). Prioritizing, and optimizing amongst different marketing spending alternatives with the objective of increasing the sales and profits are some of the benefits. Traditionally, they have been done once every 3-5 years to identify how to mix the marketing ingredients and identify the trade-offs.
With the digital disruptions, MMM is increasingly seen as obsolete and not so intuitive to use. Why? Short answer: Defining specific attribute levels with discrete variables is obsolete. To be more specific, products are now seen as services and subscriptions. Ownership is replaced by experience. Consequently, there is a continuum of flow with on-going experiences rather than discrete time-in-space consumptions. This direct one-on-one relations that brands build with customers drastically alters the place elements. The table below provides more details. To summarize, (i) products are now a promise for an experience that leverages tong tails for each customer and (ii) place is replaced with on-demand, proactive, ubiquitous commerce.
Point of views & Marketing Mix Elements
Firms
Customers
Positioning Implications






Product

Traditional
A bundle of attributes that can be searched

Ownership

Emphasize superior product attributes, mass customizations
Modern
A promise to achieve goals and live experiences




Experience

Create one-on-one experiences and increase their utilizations through subscriptions, leverage long-tails




Place

Traditional
Deliver products to provide time and place utility.
Convenience of finding the product "when and where I want it"
Distribution and availability as important attributes
Modern
Products are always available and delivered to the door on demand
Brands should be proactive and "tell me when, where, what to do to increase the experience"




Ubiquitous commerce

For example, Nike positions itself as your partner in reaching your health and fitness goals. Training clubs, IDs, Nike Plus services and many apps are some of the examples. Once customers use such apps and enroll to the services, companies start to better understand their customers and drive engagement. Consequently, they can amplify their brand messages into global conversations.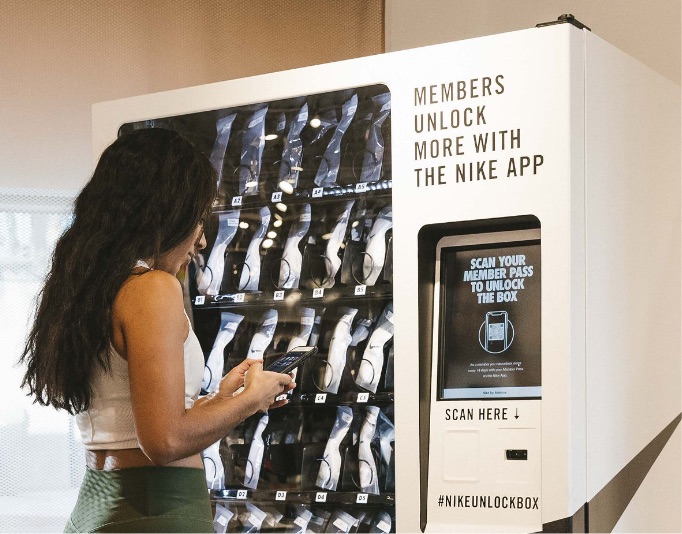 What is eBrandValue's approach?
MMM's objective is to guide firms in optimizing their ROI of marketing spend. Given the disruptions in market place, conversations provide the ultimate source of data to that end.
Conversations are the main ingredients for eBrandValue. The novel metrics are an outcome of deep customer insights that come with a proven brand affinity approach.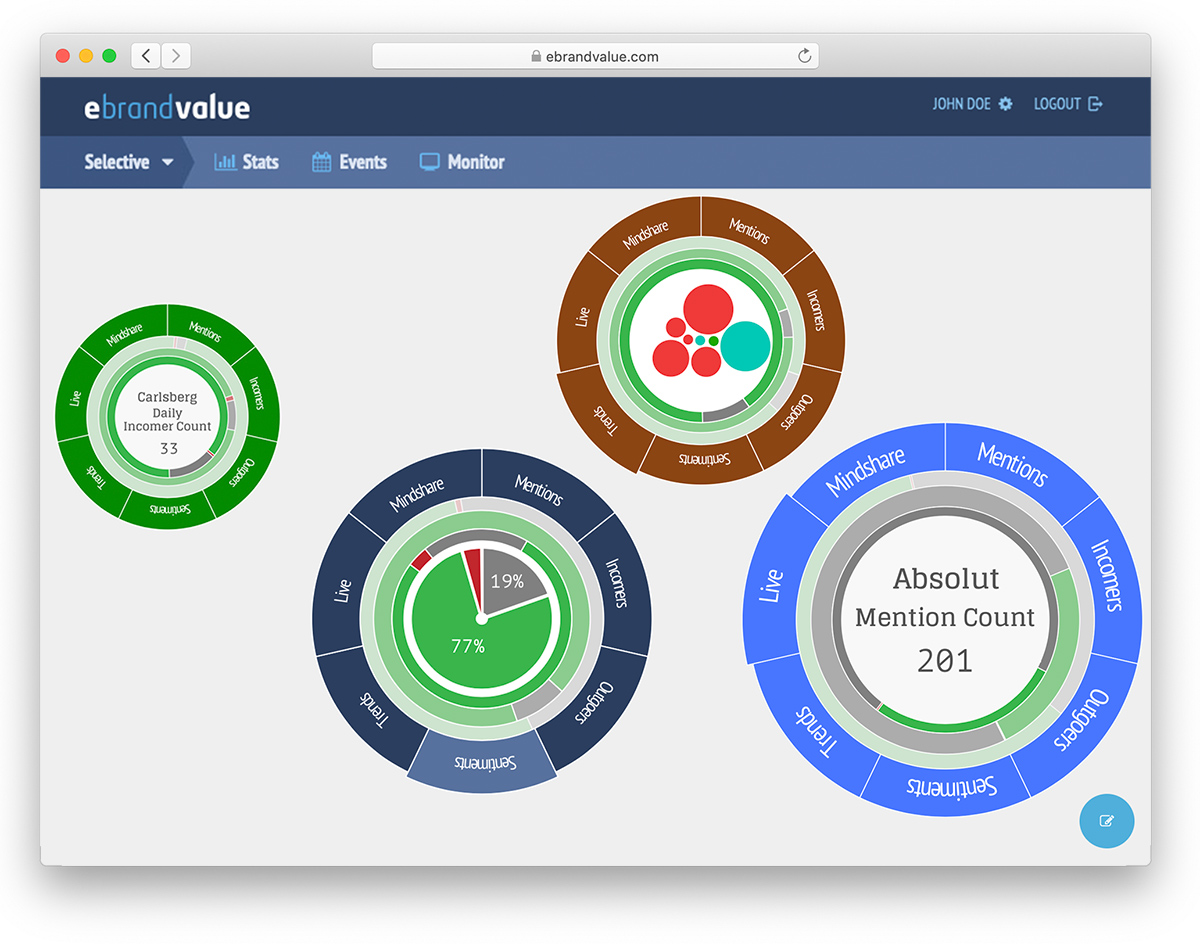 Conversations are gathered from all available brand's owned and public sources.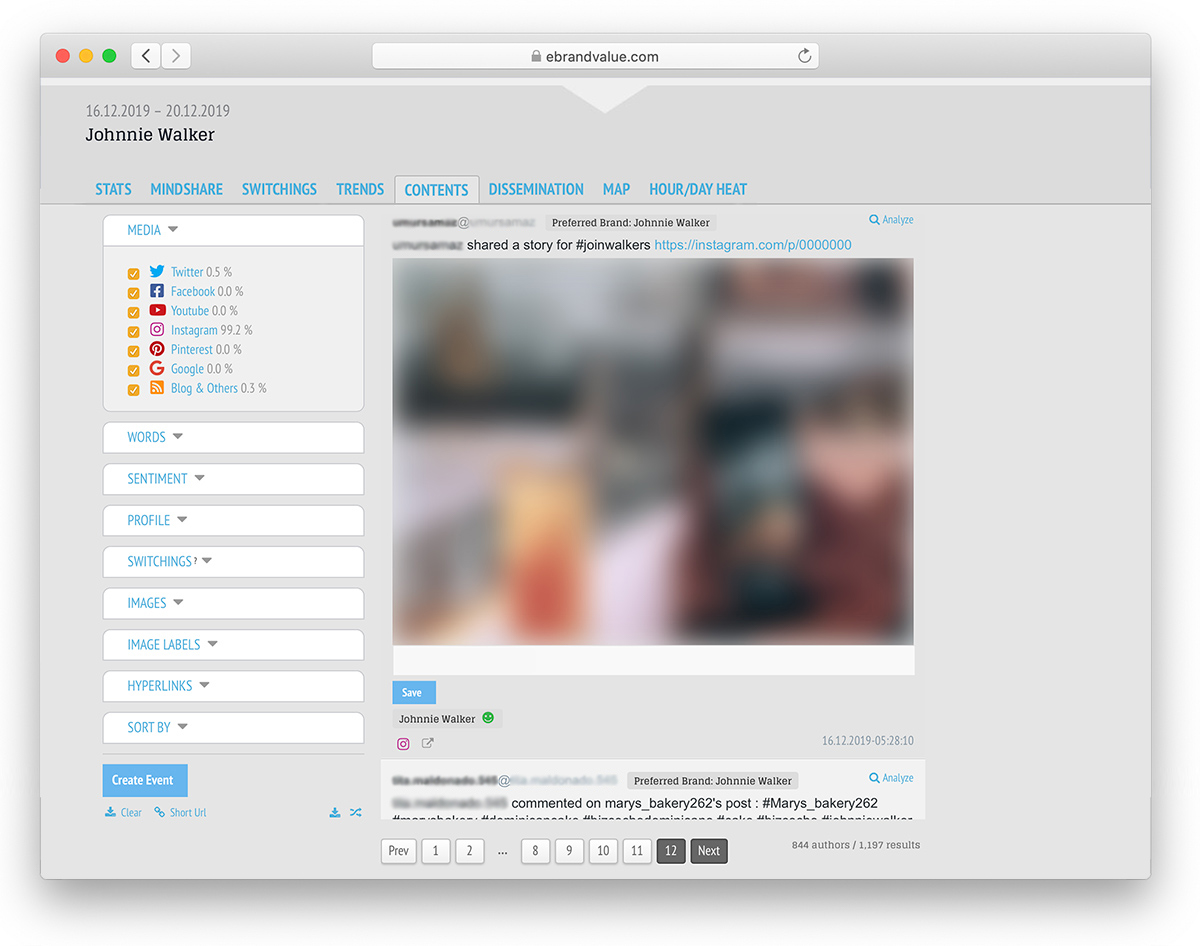 A custom build brand funnel is the first step. This step helps brand managers to identify how awareness, interest, desire and action (AIDA) shape based on conversations. Driving meaningful engagement at the top and middle funnel, eventually, leads to acquiring brand affinities at the bottom funnel. This first step ensures creation of mindshare-level customers. Resulting brand affinities and their impacts on brand values can be tracked real time using the eBrandValue Platform.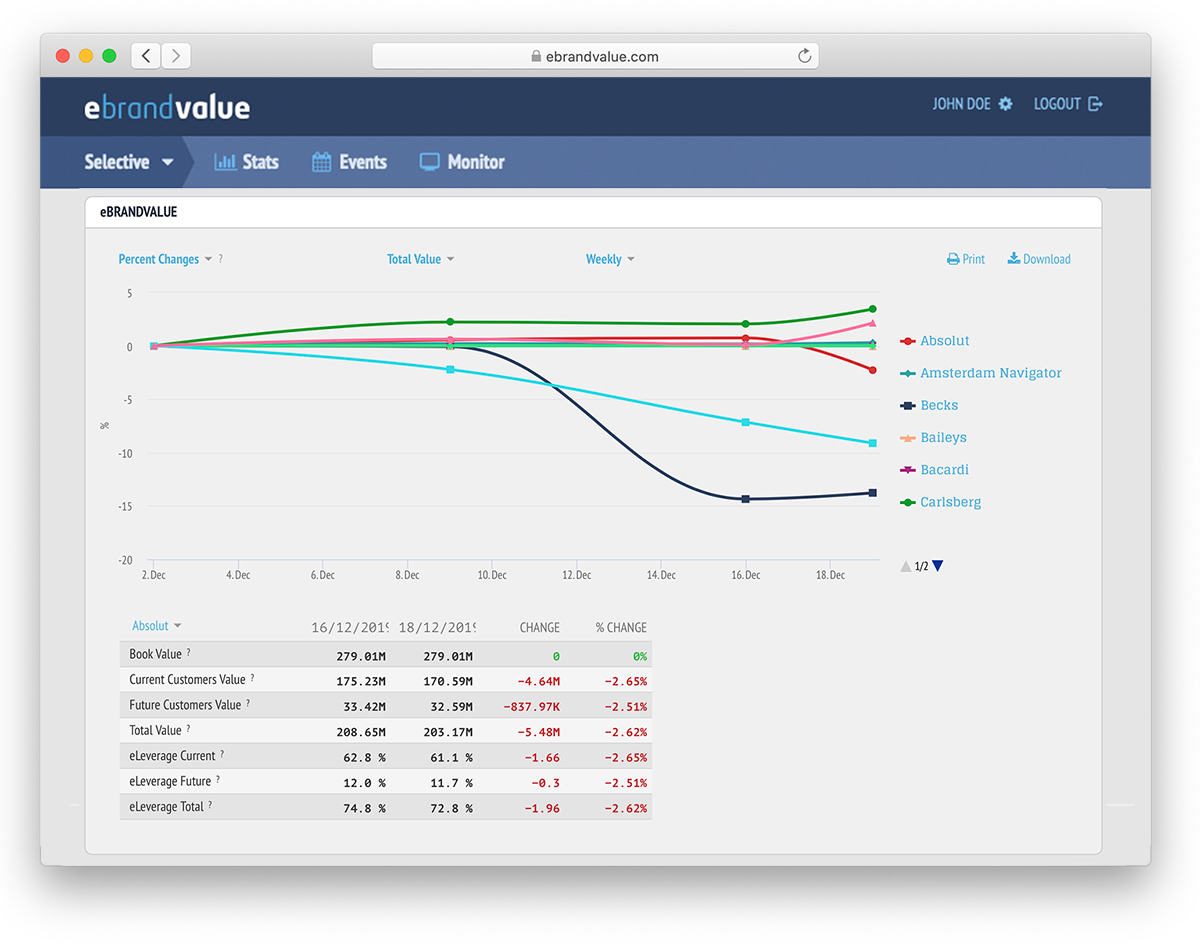 It is possible to see and compare a brand's versus its direct competitors' bottom funnel dynamics using intuitive traffic light indicators that assess the brand's relative affinity gain performance.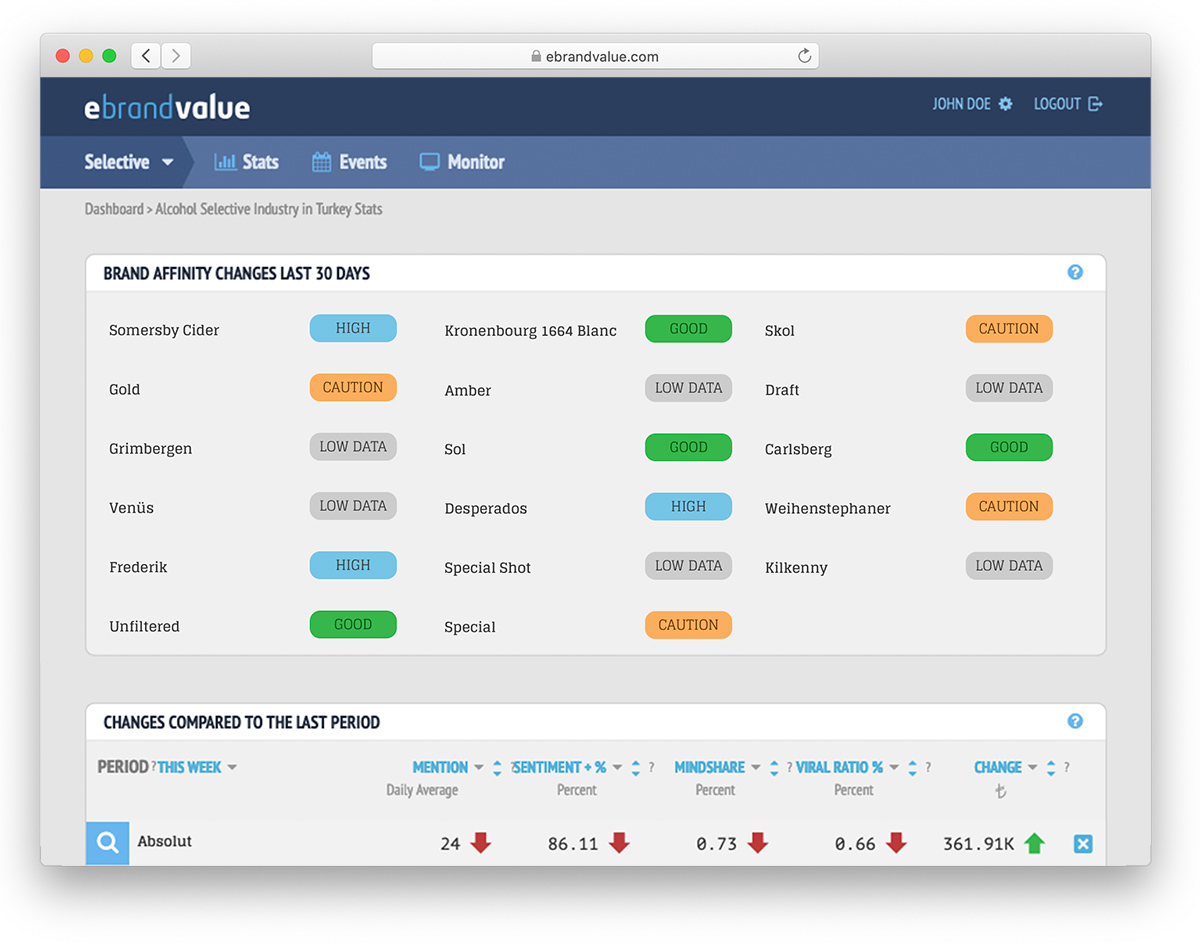 The second step is what closes the loop from conversations to sales. Funnel metrics are followed by calculating sales elasticity of mindshare and brand affinity metrics. Calculating sales elasticities of mindshares and brand affinities identifies the sales effectiveness of conversations.
Following the above steps, eBrandValue can identify what type of conversations, promotions, events and experiences help to drive brand affinities, eventually, increase sales.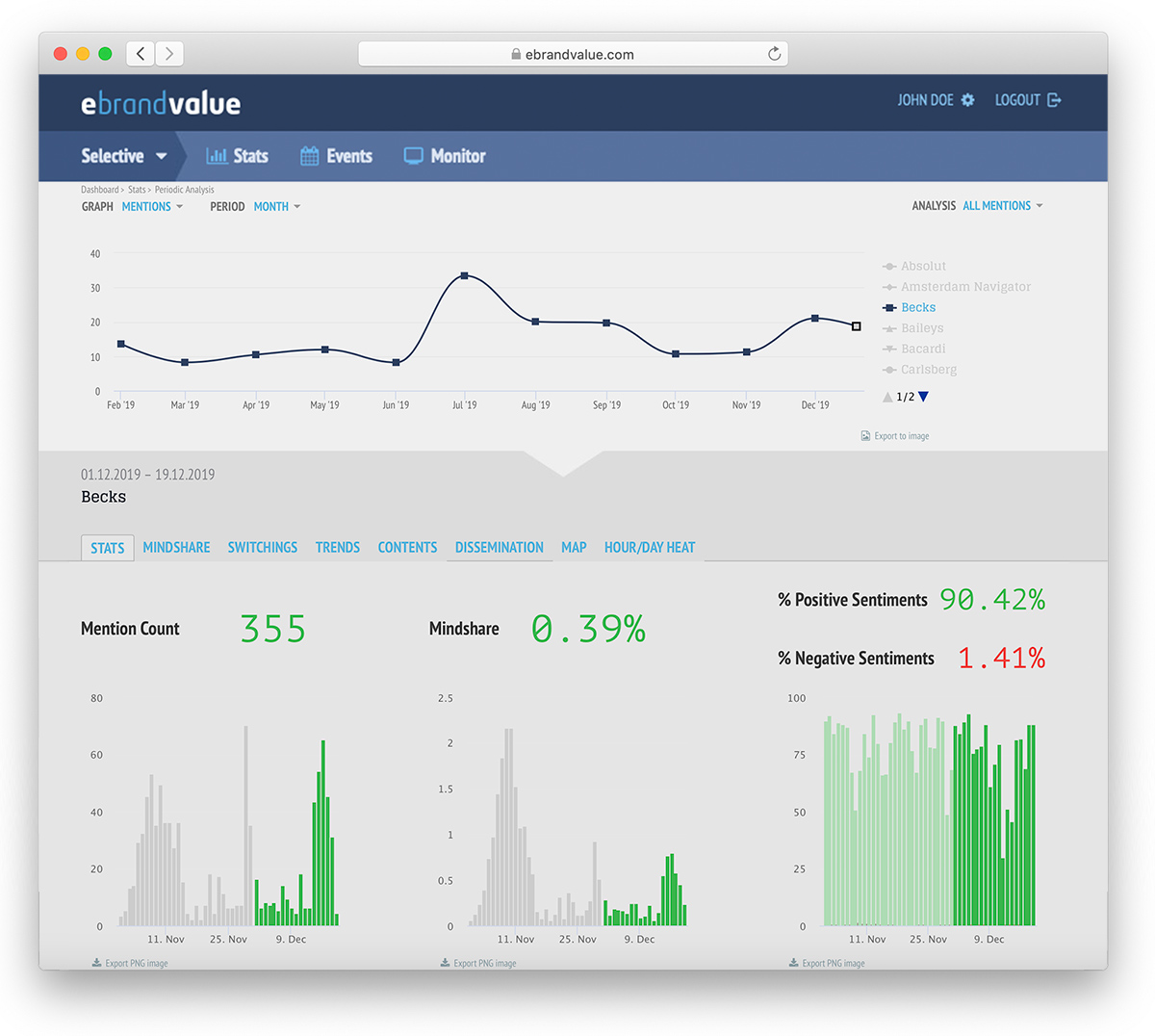 This approach provides a versatile platform that lends itself easily to running A/B tests. Eventually, a fast-cycle decision-making capability leads to optimized decisions and agile marketing organizations. eBrandValue's proprietary sector focus and big-data infrastructure help companies to identify when to stop or invest more on current campaigns on the fly, identify benchmarking KPIs, and obtain deep intelligence on customers.

To learn more about eBrandValue Platform, and how such metrics influence brand value, contact us using the form below.