Image and Text Recognition

Platform users now have access to image text and object recognition capabilities to detect brand's logos and objects in online images and put the metrics that impact your brand into their detailed and specific analysis.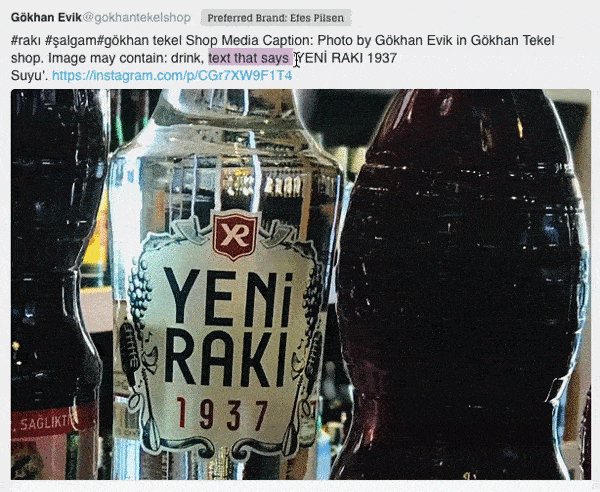 ---

iOS App Store Monitoring
Platform users now have access to monitoring and analysing the impact of App Reviews on iOS Appstore to brand.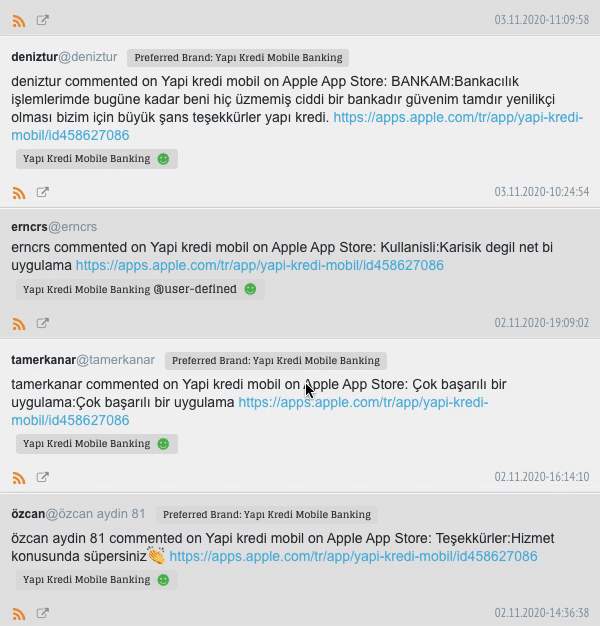 ---

Android Play Store Monitoring
Platform users now have access to monitoring and analysing the impact of app reviews on Android Playstore to brand.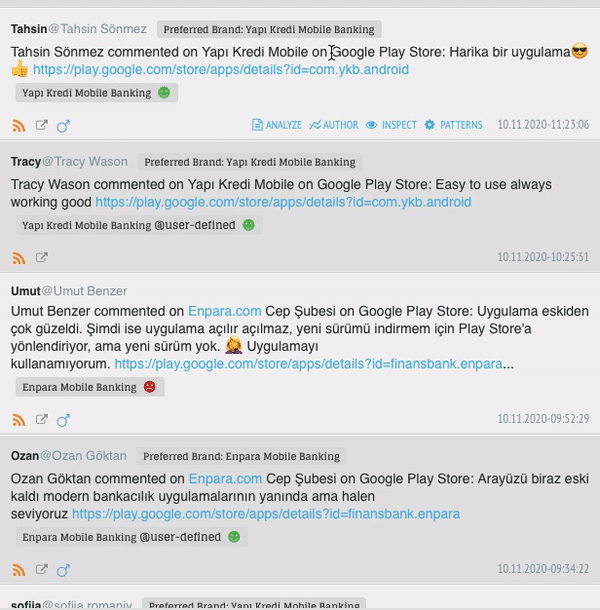 ---

Super Brand
Platform users track and analyze group of brand assets, brand groups, image expressions, subcategory breakdowns periodically and in real time.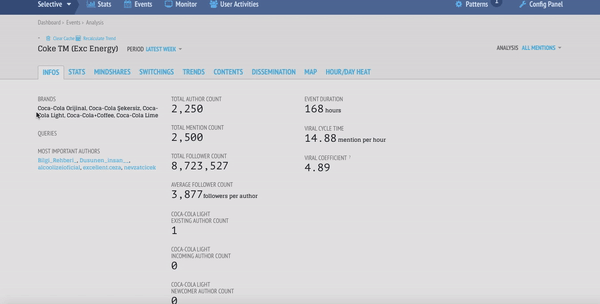 ---

Live Mention Stats
Find out the details of "Total Post Count", "Total Author", "Total Follower Count", "Viral Influence Rate" in Live Mention E-mails.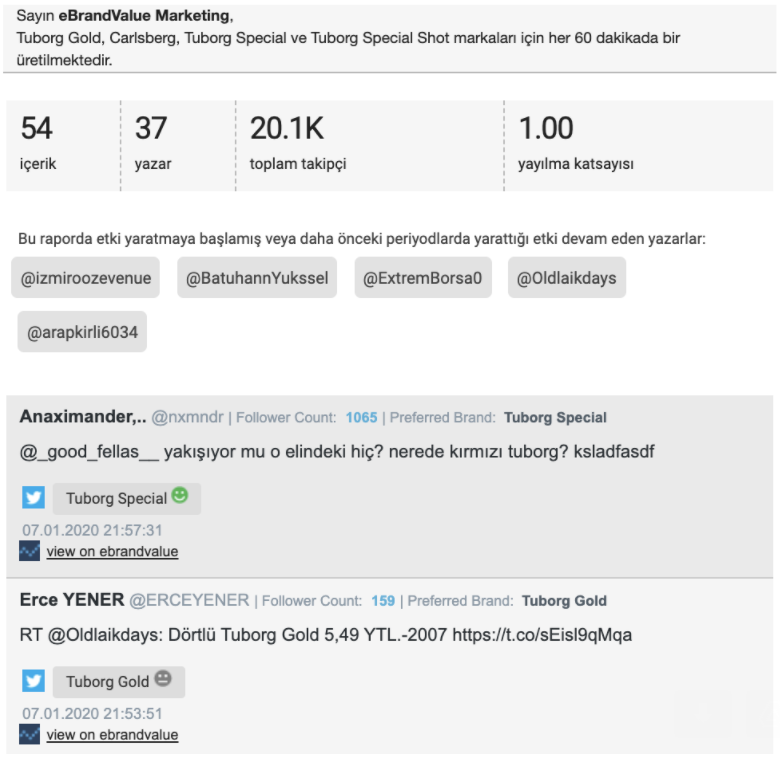 ---

Existing Trends
Find out metrics by existing trends on line chart in daily, weekly and monthly basis and follow out existing trends in real time.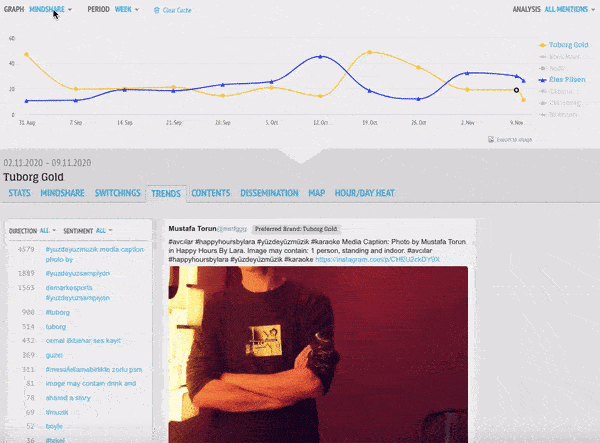 ---

Author Analysis
See an overview of Author's information below by clicking the author name link in a post.
Brand Affinity Change

Follower Count

Post count by month and industry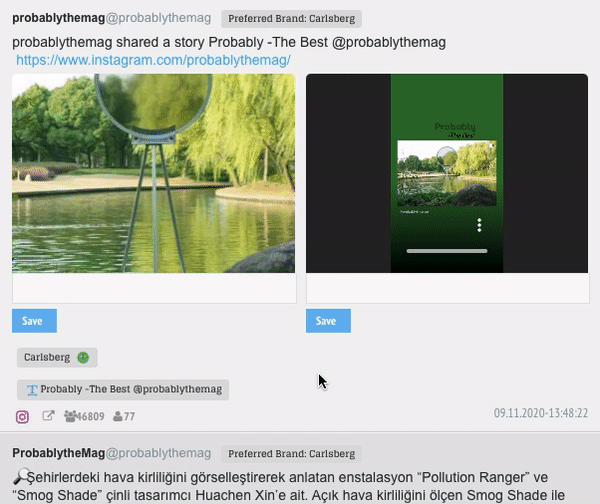 ---

Interception Analysis
Analyze the interceptions between official instagram accounts. Reach out the details of analysis by follow the instructions below;
Enter an official account name to Name/Username field to analyze.
Mouse over the account's related content and click the "Author" button.
Scroll down the page and in the section of "Follower Intercepting" and "Interceptions", select one or more account and click the "Get Follower Interceptions" button to monitor the interception data between selected accounts.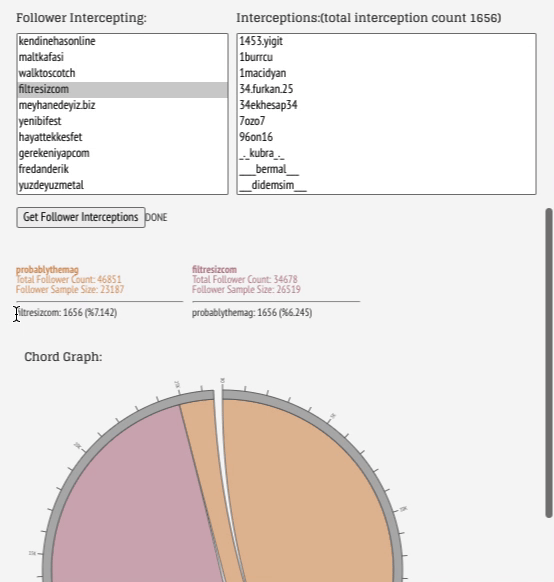 Total Follower Count data of selected accounts, there are Sample follower count and interception percentages. For instance, sample followers follow the both account with different percentage as %2 kendinehasonline and %0.4'ü meyhanedeyiz.biz. Chord graph shows interceptions for the both accounts by different colors.
To learn more about eBrandValue Platform, and how such metrics influence brand value, contact us using the form below.