What do we mean by brand awareness?

Brand awareness is used as a term of marketing that identifies and describes consumer recognition of a product or brand with its name. Making people aware of your brand would be an essential step in the promotion of a new or upcoming product or just reviving an older brand. With the ideal qualities of brand awareness a business can differentiate it and its product from competitors.

When confronted with a lot of products of the same nature, consumers are more likely to buy products from brands instead of using unfamiliar ones.

Brands get fruitful outcomes with a lot of steps and measures, but the philosophy of achieving this often remains filled in subjectivity and myth.

This doesn't mean that the overall efforts marketers put on awareness of brands aren't computable. However, identification and analyzing appropriate metrics can be a concern but eBrandValue ensures to have all necessary aspects for brand awareness.


Why do we consider awareness of brands beyond anything else?

Fundamentally we can say that awareness is brand familiarity within your target audience.

As a brand, you wish to appear in the top of mind or TOM, while a prospective customer or client gets asked to recall any brand from your industry or sector.

Here's an example of Top of Mind or mindshare- What is the first brand name that came to your mind when I said "the best sedan car"?

What brand automobile you recalled? BMW? Or a Jaguar make? This holds true especially for bigger brands in the market but unless you've thought about manufacturing automobiles.

Other brands don't have to worry as certainly there are a lot of opportunities for brands that aren't much known. All it takes is applying the right activities for promotion, to shift this to another awareness layer i.e. brand recall.

In such instances, respondents list out certain brands about which they know and the ones that are specific to a sector.


Example of brand recall - Which sedan cars you know about?

Here I somehow listed 10 names in a minute, with a combination of independent and global recognition. Try this yourself and you'll know how much you're able to recall.

I also carefully noticed the most common themes from those brands that were specific to "sedan cars" while making a search: "Most common themes for "sedan automobile" brands available over the previous 12 months"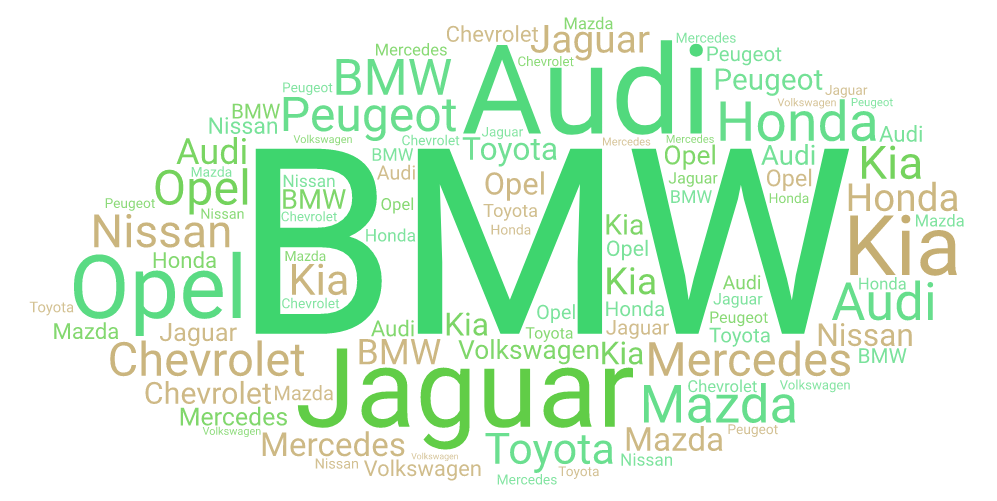 However, of course, not all available brands that were involved in the conversation for "sedan automobile" were industry-specific, with all expected ones present such as Audi, BMW, Jaguar, etc. This provides us some indications about the sedan automobile brands having wide awareness among people.

After narrowing down to two largest players and later on digging much deeper, we also get a complete assessment of their performance for brand awareness initiatives.
In fact, using the verbatim and engagements of social media authors, you can do a positioning and image study. As an example, lets say that you focus on C-Sedans and you want to compare Fiat Tipo against Renault Megane. You can identify the important dimensions using the memes used in social, see eBrandValue's
white paper on Meme Based Netnographic Segmentation,
Lets assume that you have the following dimensions. The C-senad average is the gray area. Red line shows Fiat Tipo and the blue line shows Fiat Tipo. Such a study leads to new perspectives in managing and positioning your brand based on data obtained close to real time.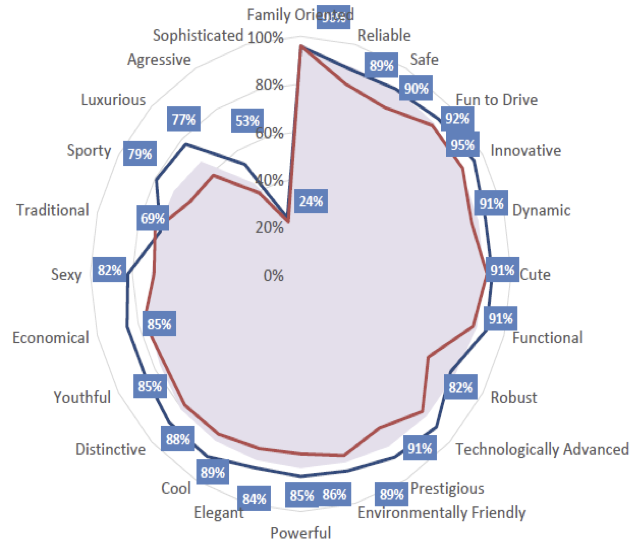 The next awareness level for your brand is aided or prompted recall (also known as recognition). Here you're provided with a list with different brands and you're asked to tick on any of these about which you know.

Example of prompted brand recall - Which of the following car brands you've heard about? Audi, BMW, Jaguar, Mercedes, Chevrolet, Volkswagen, Opel, Mazda, Toyota, etc.


3 most important ways to measure brand awareness

In addition to these primary indicators, there are also a lot of additional layers for awareness of brands like how familiar your target audience gains familiarity with USPs.

For the time being, we're getting a sneak peek on the 3 of the most vital methods that are typically used for measurement of brand awareness. eBrandValue utilizes all the concepts of these methods and makes sure that you've get the most consumer engagement out of your marketing initiatives.


1. Analytics provided by the web

Among the best outcomes for any company that is involved in inbound marketing is the web user traffic that the brand draws.

The very first port of call in such regard is getting direct traffic, where users firstly visited your company's website as a direct outcome of fetching the website URL into the website browser. Or this is the simplified version for the same.

Searching direct website traffic in Google Analytics

Unfortunately, metrics for direct traffic aren't always the best friend of a marketer. In this regard, there is a misconception that most of the visitors came to the website through the URL. Indeed there is a lot of confusion in this regard as despite being the key channel, a lot of people are beginning to assume direct traffic to have a negative impact on their website.

Around this you can find a lot of ways, however, you can possibly clean up what can be qualified as direct traffic for the website for an accurate picture.

The process also includes managing redirects and ensures the best practice campaign tagging and also transfers to HTTPs.

Once you have the streamlined direct traffic metric version, you'll then, later on, get positioned or activating a certain strategy for channel optimization. While you're considering that with direct traffic you typically get high conversion rates for your channel, you're also bearing a huge impact on your business.

Another fine way of getting better brand awareness assessment through the use of web analytics would be splitting organic traffic into altered segments like branded and non-branded ones.

Metrics for organic traffic - where users include your product or brand name in their search queries. This is quietly aligned with direct traffic and also provides you with a complete view of awareness activities for your brand.


2. Surveys

Awareness for a brand can also be accurately measured with the help of a few questions. These mostly pose to targeted personas for measurement of brand awareness.

Typically the outcomes are present in the below-mentioned structure:

The primary goal for all brands is achieving dominance where these are at top of the mind in the majority.

The pyramid base - unrecognized - would outline that the individual hasn't been aware of the brand even on mentioning the name for creating a better response.

The survey also dives quite deeper for separating certain timeframes, personas and experience levels in your sector and finding out new insights for USP knowledge, sentiment, and variations found between different products, etc.


3. Social Listening

Professional marketers consider social media to be among the best modern survey platforms that one can use. With social media sites, your website has the chance to reach around 3 billion audiences globally and there isn't any better way than conducting surveys with accessing real-time organic conversations consistently.

Just after setting a brand query you'll easily access different metrics offering unique insights for different levels in your brand awareness program.

After setting the appropriate query up, you're able to simply measure the performance of your brand awareness across different metrics.

Once you've figured out the right strategies for awareness of brands, you'll want to know more about bringing improvements in awareness of brands and the ways to measure and raise it such as share of voice. Such tactics come in handy and promote your brand to the next level. With all these measures and strategies people will surely remember your mission and your products.

To learn more about eBrandValue Platform, and how such metrics influence brand value, contact us using the form below.